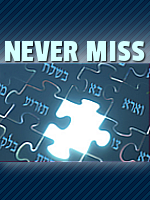 With 'Never Miss' you'll instantly have access to Rabbi Frand's weekly Thursday night shiur in MP3 format by 11 PM (EDT) Thursday night via the "my files" page on www.yadyechiel.org.
The shiur will be placed into your account by 11 PM Thursday night and you will be notified by email that it is ready for downloading.
Your credit card will be billed weekly for just $2.99 – no big up-front money.
No need to enter all of your information to get the current shiur each week just once and done!